SCROLL
施設名
hanare
住所
SNS
定休日
不定休
業態
宿泊施設
電話番号
03-5834-7301
営業時間
レセプション:11:00-20:00
備考
email : hanare@hagiso.com
The whole town can be your hotel
東京、谷中。
朝は早く、道を掃く僧侶が軒先で挨拶を交わす。
昼は通りに人が賑わい、ひっそりとした路地では子供たちが猫とたわむれる。
夕暮れはいくつもの鐘の音が響き、静けさとともに坂の家々は赤く照らされる。
夜は小さな店がポツポツと暖簾をかかげ、すれ違う人は銭湯帰りの暖かなお湯の香りを運んでくる。
このまちの風景は「あたりまえ」で「特別」。
旅人にもその素顔を見せてくれる。
さあ、まちに泊まろう。
The whole town can be your hotel
Yanaka, Tokyo
Day breaks to the gentle swish of monks sweeping the streets, as they exchange greetings with neighbors.
Noontime, the roads are enlivened with people, while children play with a cat off in a quiet alley.
Dusk is accompanied by the calling of many temple gongs reverberating through the air, as houses on the slope become aglow with ruddy lights.
In the evening, small shops signal their welcome by hanging their shop curtains, as fragrant scents trail behind the public bath patrons passing by.

This quaint atmosphere is mundane yet somehow unique.Travelers can find themselves in a place without pretense.
Let's stay here, a town worth experiencing.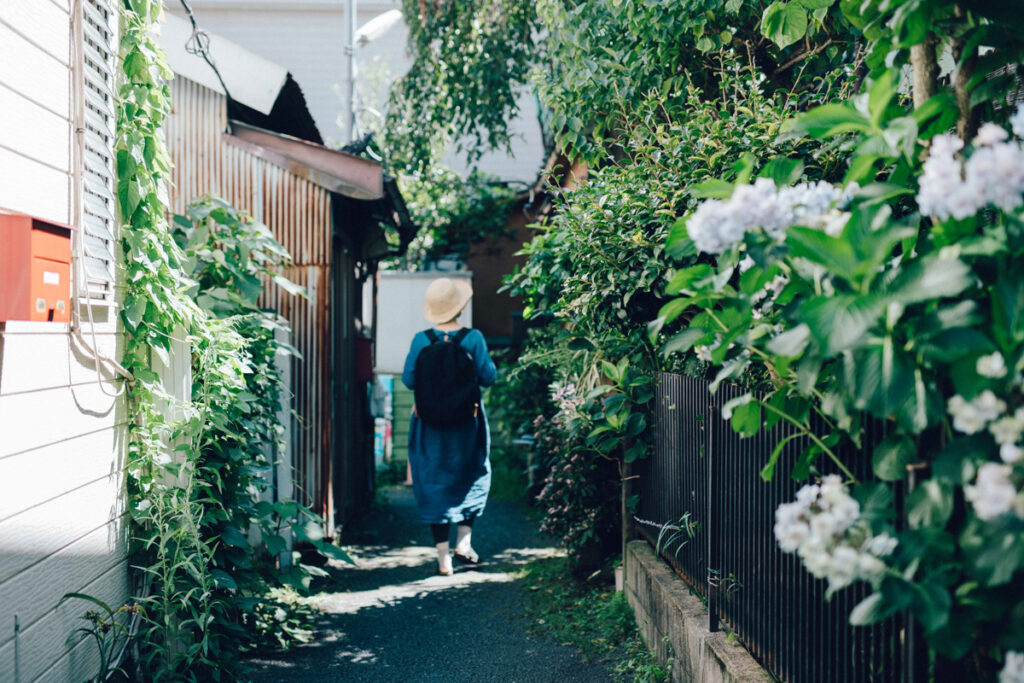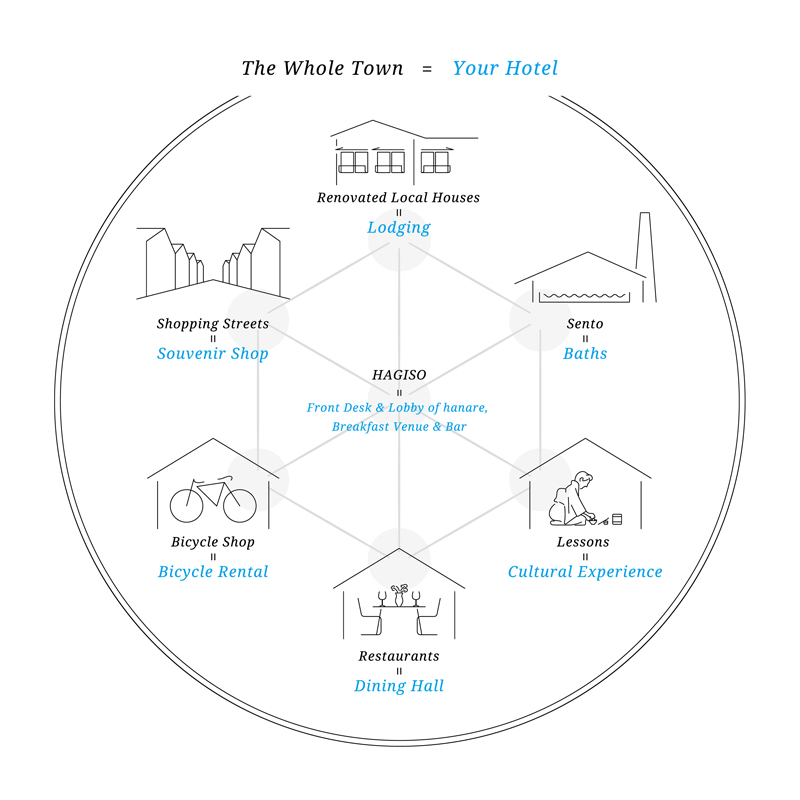 hanareは東京・谷中のホテルです。
しかし、単に一つの建物に完結したホテルではなく、まち全体を一つの大きなホテルに見立てることで 地域と一体になったホテルです。
ホテルのレセプションは最小文化複合施設「HAGISO」に。宿泊室はまちの中。大浴場はまちの銭湯。ホテル自慢のレストランはまちの美味しい飲食店。お土産屋さんは商店街や路地に店を構える雑貨屋さん。文化体験はまちのお稽古教室やお寺で。朝ごはんはHAGISO1階のHAGI CAFEで毎朝ご提供します。
hanare is a hotel in Yanaka, Tokyo.
However, it is not simply a hotel complete in one building, but rather a hotel that is integrated with the community by considering the entire town as one big hotel.
The hotel reception is located in HAGISO, the smallest cultural complex. Accommodation rooms are in the town. The large public bath is like a public bathhouse in the town. The hotel's restaurant boasts of the best restaurants in town. Souvenir shops are in the shopping streets and alleys. Cultural experiences are available at the town's practice classes and temples. Breakfast is served every morning at HAGI CAFE on the first floor of HAGISO.
レセプション
レセプションはHAGISO2階にあります。
ウェルカムドリンクとクッキーとともに、
コンシェルジュがまちの情報をご案内いたします。
Reception
Reception (check-in desk) is located on the upper floor of our main building, HAGISO.
The guests will be welcomed by the seasonal welcome drink and the cookie.
Please ask any questions during your stay in this town!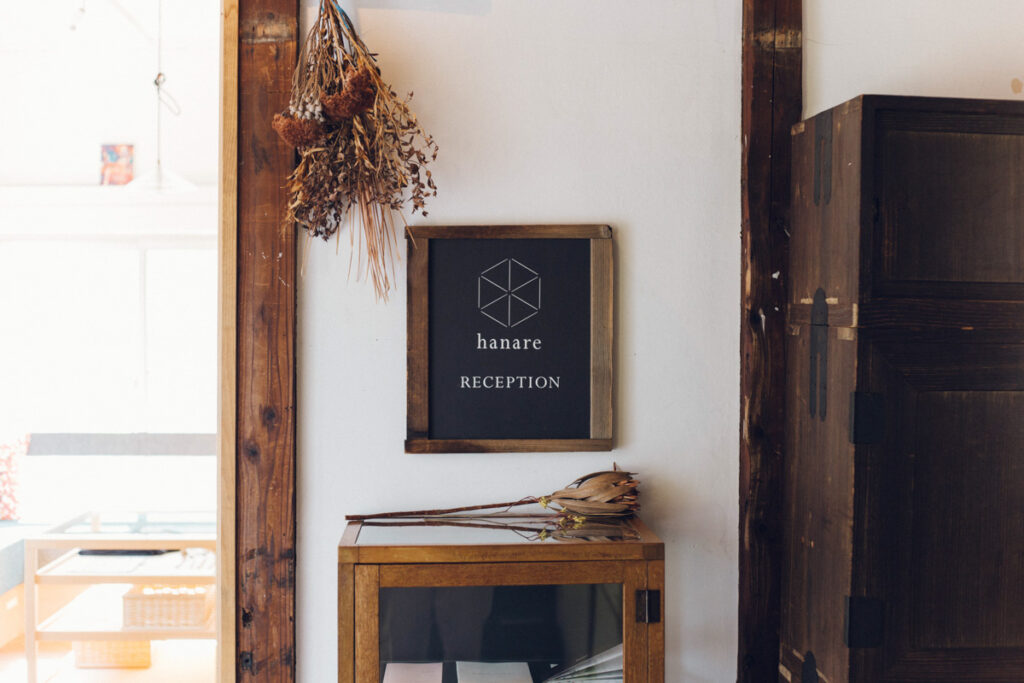 朝食
コンセプトは「旅する朝ご飯」。
旅をしたとき美味しいものに出会えるとなんだか特別な気持ちになったりしますよね。
そんな気持ちをhanareの朝ごはんでもお届けしたいと思い考えました。
日本には地域や季節をいかした美味しい食材が沢山あります。
そこで四季ごとに地域をわけ、食材で日本を巡る和食の朝ごはんを提供します。料金はもちろん宿泊費に含まれています。
ご提供時間 AM8:00-10:30(10:00L.O.)
BREAKFAST
Do you remember that special feeling when you unexpectedly encountered delicious food on your journey?
We wanted to make our guests feel like the same at HAGISO. That's how Traveling Breakfast started. In Japan, you can find many good ingredients that are grown uniquely by the nature of their own regions.We travel Japan with particular regional food every six months. This time for spring and summer in 2018, we travel to Tottori prefecture in Western Honshu.Imagine as if you are on a trip, and enjoy your morning!
Breakfast Time: AM8:00-10:30(10:00L.O.)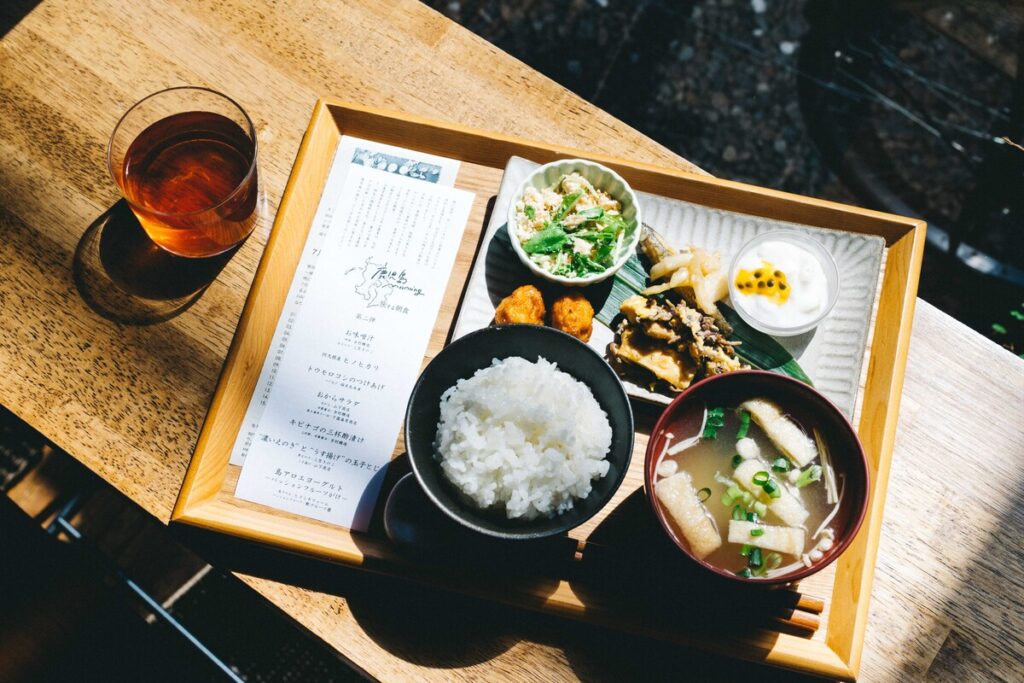 銭湯
hanareの宿泊料には銭湯料金が含まれています。hanareマップと手拭いを手に、ぜひ町なかの銭湯にお出かけください。(現在、朝日湯、齋藤湯、ふくの湯の3箇所をご案内しております)
銭湯帰りの一杯に丁度いいお店は、ぜひコンシェルジュにお声がけください。
SENTO (PUBLIC BATH HOUSE)
The stay at hanare includes the entrance ticket to local public bath ("sento" in Japanese).You can choose from three sentos (Asahi-yu,Saito-yu,Fukuno-yu) which is accessible on foot, from the lodging.
Grab a towel and soap, and get ready for a local Japanese experience!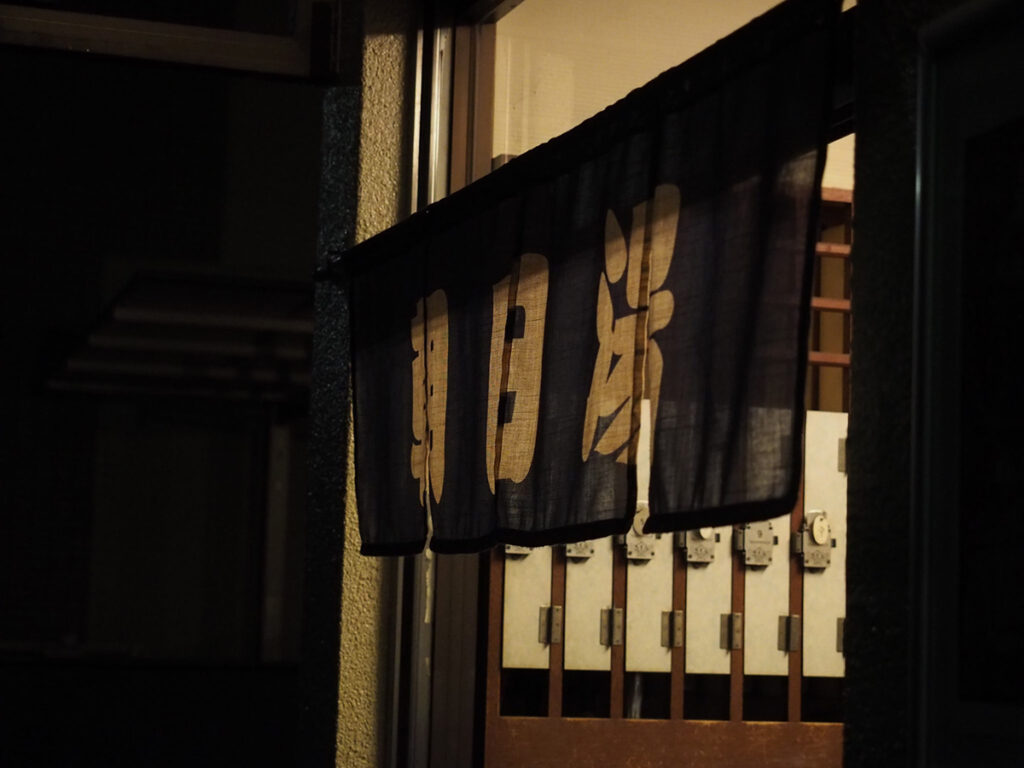 宿泊棟・丸越荘
チェックイン後はHAGISOを出て、まちを歩きながら宿泊棟の丸越荘へとご案内いたします。
宿泊棟は古い建物をリノベーションして設えられており、周囲の民家に並んで街並みを形成する建物のひとつとして存在します。

2フロアのある宿泊棟。客室が全5室。棟内には、お客様同志で共用でお使いいただくシャワールーム、お手洗い、洗面台がございます。
客室ごとに柄が異なるすりガラスも、丸越荘が好きになる魅力のひとつです。
Marukoshi-So/Lodging
After check-in, you will leave HAGISO and walk through the town to Marukoshi-So, the lodging building.
The lodging building is an old building that has been renovated and is one of the buildings that form the townscape along with the surrounding private homes.
The lodging building has two floors. There are a total of 5 guest rooms. Inside the building, there are shower rooms, restrooms, and washstands for shared use by every guests.
The Window glass with different patterns in each guest room is another important attraction that will make you fall in love with Marukoshi-So.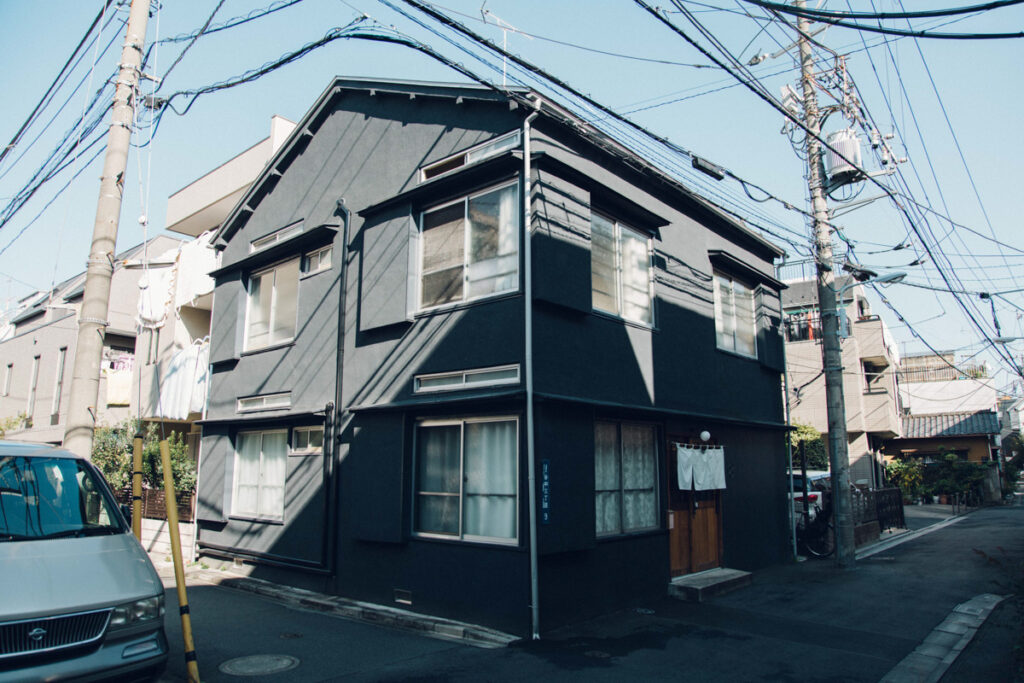 オリジナルマップ
チェックインの際にhanareオリジナルマップをお渡ししています。オリジナルマップは「DAY MAP」と「NIGHT MAP」で構成され、「DAY MAP」には朝〜昼の散策に役立つ情報が、「NIGHT MAP」には夕〜夜のお食事や呑みあるきに役立つ情報が載っています。いずれもコンシェルジュがおすすめするスポットのみを厳選した、渾身のマップです。
Original Map
Guests will be handed our original town map at the check-in.The original map has two sections: "DAY MAP" and "NIGHT MAP." The "DAY MAP" contains useful information for morning and afternoon strolls, while the "NIGHT MAP" contains useful information for evening and night dining and drinking.All of the spots are 100% recommended from the concierges!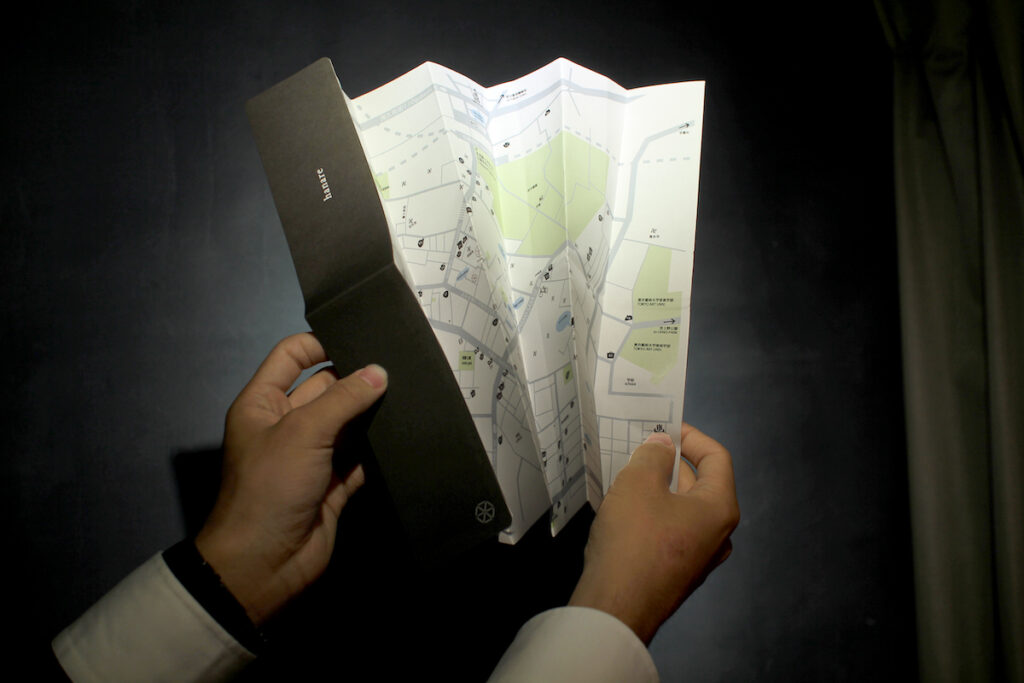 宿泊予約スケジュール
宿泊予約は、宿泊希望月の2ヶ月前1日より受付を行っております。
例:宿泊希望日2023/8/15 受付開始日2023/6/1
上記日程は変更になる可能性がございます。
変更になった場合はホームページ、SNS等にてお知らせいたします。
Reservation Schedule
Room reservations are accepted from the first day of the 2 months before the month of your stay.
Example: Stay date: 2023/8/15 Reservation starts on 2023/6/1
The schedule above is subject to change.
In case of change, we will notify you on our website and SNS.
ACCESS